If you have an android device, there's a lot of animations programs available. Some of them are good, others not so much. Here are some of the best options available currently:
TV Paint

If you're looking for the most feature packed application to use with your android device, you can pretty much stop here. TV Paint is an expensive professional desktop program that recently has been made available as a free android application. This is the same program that feature length films like Song of the Sea were made with.
To download you need to go to their site and create a user account.
RoughAnimator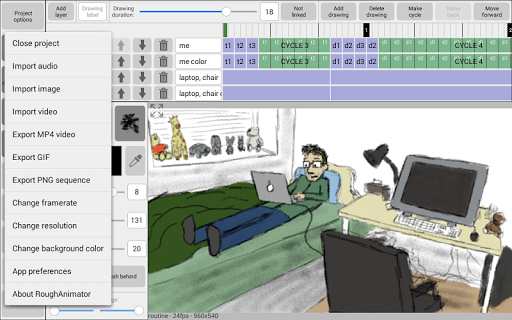 This is a cheap app ($5) that packs in a lot of useful features. Created by an animator, this program runs on Android, iOS, Mac OS and Windows but works best on mobile platforms. For creating longer animations with audio, this is one of the best options available.
Animation Desk
Animation Desk is one of the older animation apps out there, but well regarded and easy to use. The in app purchases can be a bit pricey but greatly expands the functionality of the program.
FlipaClip
FlipaClip is great for making quick, short animations and making them easy to share with others. The basic version is free to use, but you can also get more features with in app purchases.
Stop Motion Studio
Stop Motion Studio is for creating stop motion animation with a camera, but it can also be a very useful tool for traditional paper animation. With this app you can take photos of your drawings and make an animation out of them.
Pixel Studio
This one is a bit different but has good reviews and if you like the visual style of pixel art you could do some interesting stuff with it. The basic version is free with additional in app purchases.
Here is an example of animation created with the program: